When evaluating cybersecurity across your organization, you will likely need to answer the question, "Who needs data protection?" Whether you run a global manufacturing enterprise, a small retail shop, a healthcare provider, a school, or a nonprofit organization, you have sensitive information that hackers can profit from, and that data can be found across every corner of your organization.
Many organizations choose to extend data protection across their enterprise, including Virtru customer NEXT Insurance, a digitally focused leader in the insurance industry. Recently, NEXT increased its usage of Virtru and purchased licenses for every employee in the company. "We want everyone to have the ability to protect the files they're sending," said Ram Avrahami, Head of Global IT and IS at NEXT Insurance. "At some point, everybody in the company will need to share something sensitive— maybe not daily, maybe not weekly—but eventually, they'll need to. Say for example, you want to send something that includes an attachment you want to protect, or you're sending an email with sensitive information that contains data loss prevention (DLP) keywords. We want to make it easy for these types of emails to be automatically encrypted."
When considering a solution for data protection, it's vital to keep the end users and their use cases in mind. This checklist will help you ensure your organization's most sensitive data remains protected, both in motion and at rest — even after it leaves your organization's network.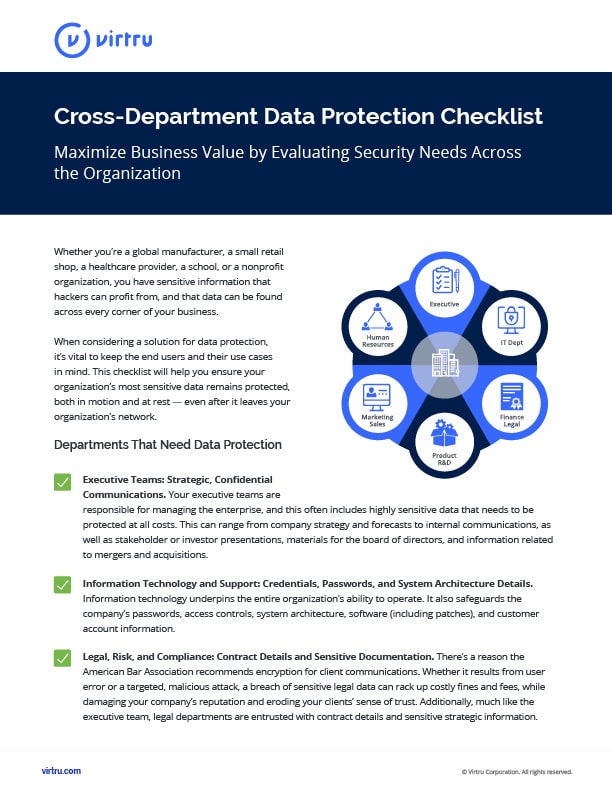 What You'll Learn:
Who needs data protection at your organization, and which business areas you should equip with advanced data security tools
What kinds of sensitive data you should evaluate across an enterprise
Why a holistic, organization-wide approach to data protection can ensure employees protect sensitive data whenever it's needed
How to add an automated layer of encryption to shared data