Why Virtru
Gmail Confidential Mode offers baseline access controls for messages and attachments, but many organizations face pain points because those controls are limited, the features restrict common sharing workflows, and their messages aren't truly "confidential." Virtru ensures data privacy with persistent protection and granular access controls that give you complete control over your data so you can collaborate with confidence.
True Privacy
End-to-end encryption for messages and attachments
Customer-hosted encryption keys to prevent blind government subpoenas
No access by Google or other unauthorized third parties
Secure Collaboration
Secure responses for all recipients, even if they don't use Gmail
Seamless, secure access for non-Gmail recipients, without extra verification steps
Persistent protection for attachments, even after download
Control and Visibility
Automatic protection and control via DLP rules and policy enforcement
Document watermarking
Granular access controls (e.g. allow forward, disable download)
Persistent visibility into recipient access and sharing
Granular audit logs and SIEM integrations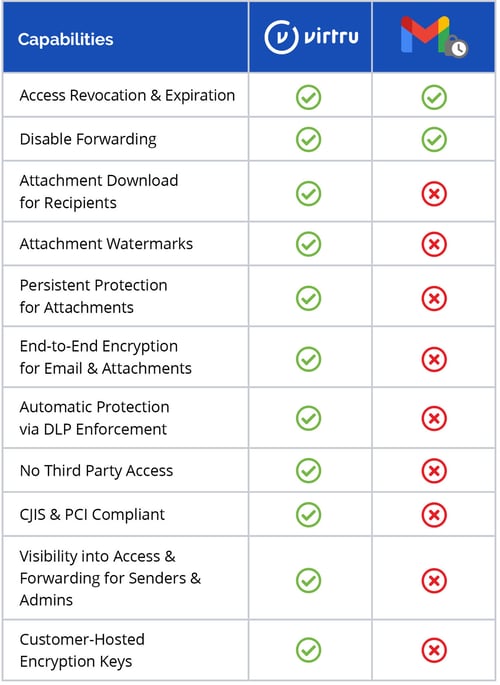 Want to compare Gmail Confidential security against Virtru's data protection capabilities? Download the full data sheet to read more.