DCA Live named Virtru CMO Matt Howard a 2022 Star CMO, an honor given to DC's top marketing executives at the most exciting companies.
Howard and 40 other exceptional CMOs were honored at a special reception on August 31st hosted by REQ, Ceres Talent, Broad Street Brand Partners, Chief Listening Officers, LLC, Jedox, ChurnZero, involve.ai and WebMechanix.
Accepting the award on his behalf was Virtru's Director of Field Marketing Carissa Nee and Senior Manager of Analytics Jack Britton.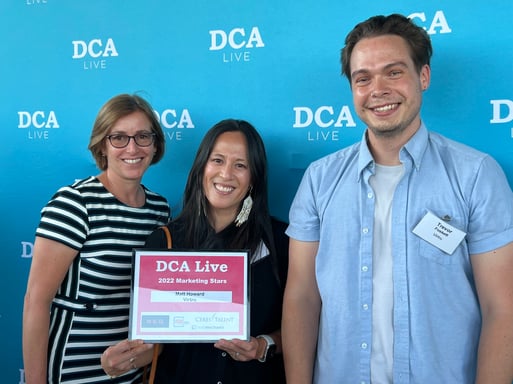 "Matt Howard is more than deserving of this recognition," said Nee. "Not only is he an outstanding leader for the Virtru team, he is well respected in the industry and in the DC area. Matt truly understands how to operate in a hyper-growth market, and as Virtru's CMO, he is poised to really scale and drive transformational change for the company and its mission for digital privacy."
Howard was previously recognized as a DCA Live Star CMO in 2018 during his time at Sonotype, and joined the ranks again in 2022 with Virtru. He has an over 25-year history of growing SaaS organizations. In less than a year at Virtru, Howard has championed efforts to amplify Virtru's positioning as the multi-faceted data protection powerhouse it is today.
"It's an honor for me to be recognized by DCA Live amongst a talented group of professionals. Marketing is the ultimate team game, and over the course of my career — and definitely here at Virtru — I've been fortunate to work with amazing teammates," said Howard. "There is such rich a history of innovation in D.C., Maryland, and Virginia. I love being a part of that community and was thrilled to be honored again by DCA Live last night."
Howard's recognition as a Star CMO comes on the heels of Virtru's Red Hot Company recognition in July.
Above all, Howard is genuinely passionate about data privacy and empowering people and companies with control over their data.
Want to learn more about the products that drive our growth? Check out our Zero Trust data protection solutions for Google Workspace, Microsoft 365, secure file sharing, and apps like Salesforce and Zendesk.