If you're a Virtru customer, you're in good company: More than 8,000 global customers trust Virtru to protect and share sensitive data. There are a lot of vendors out there for email security — so why choose Virtru?
When we sit down for a case study interview with a customer, we always ask this question: "What was the deciding factor that made Virtru the right choice for you?" The answer is essentially the same, almost every time.
"Virtru is so easy. It just works."
Far and away, ease of use makes the difference for Virtru's customers. That's because we believe it shouldn't be difficult to do the right thing with data. Protecting sensitive information should be easy — and not just for the software user. It should be easy for the recipient to access the information they need. It should be simple for the admin to deploy and support. It should be easy to adopt at scale. Ease of use is the top thing that sets Virtru apart.
But there are a lot of other features that our customers love, too. Here are five top things that Virtru customers like about our products.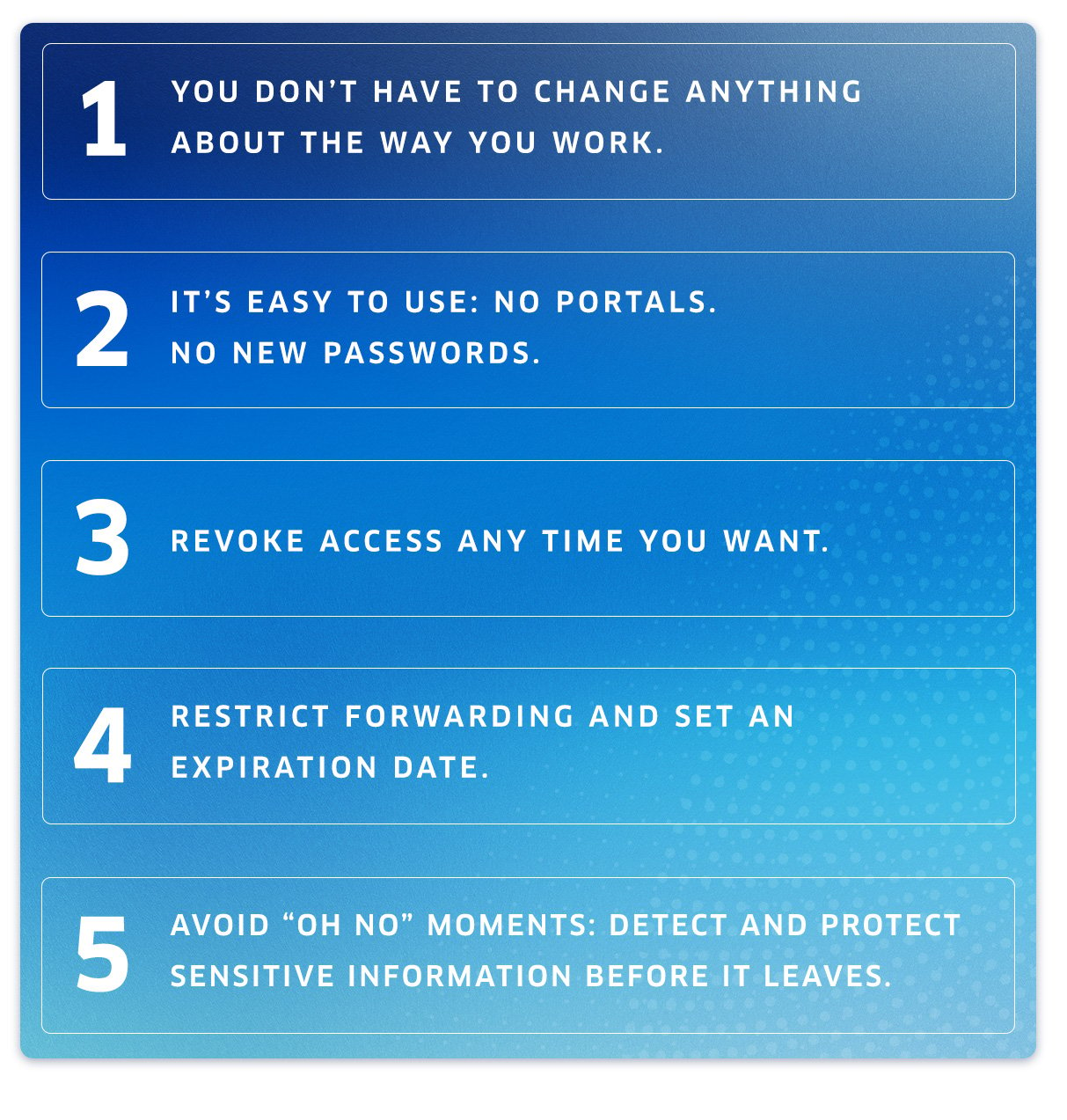 1. You don't have to change anything about the way you work.
Because Virtru product integrations seamlessly connect with the apps you already use every day — apps like Gmail, Google Drive, Zendesk, and Microsoft Outlook — you don't have to add steps to your workflow. You can stay in the apps you already work in.
Showkat Choudhury, CIO of Central State University, said it well in this case study: "Virtru's technology is designed in such a way that you don't have to change your habit or work. It is seamlessly integrated with your current workflow." Universities have a high retention rate for faculty and staff, with some employees staying in their roles for over 20 years. "During that time, they get used to one type of work," said Choudhury. "You hear things like, 'I do things my way. I work like this.' With Virtru, they can keep those processes. It changes just a little bit, but in a way that's very doable."
2. It's easy to use: No portals. No new passwords.
When you think about email encryption, the first thing that comes to your mind might be... hurdles. Many legacy encryption tools are portal-based or require complicated steps for users. When the experience of encrypting data is too frustrating, users simply won't use it — they'll find workarounds, or they'll send sensitive information in a standard email and hope for the best.
But when it's easy — both for the user (just one click, or automated behind the scenes) and the recipient (a quick and easy verification to access shared data)? That's the simple, easy experience that people expect, and it's one that they'll actually use.
Leroy Cunningham, Information Security Manager at Chartered Management Institute in the U.K., has observed this in his own workplace: "It's great having all the bells and whistles, but if your end users don't know how to use it, they won't use it, and it's as simple as that. I like how clean and simple Virtru's product is, it's a simple toggle switch to turn it on or off, and it gives us more autonomy."
3. Revoke access any time you want.
If it's your data, shouldn't you be the one to decide who can access it, and when? We think so. That's why Virtru's products give the data owner control of their information, everywhere it goes, and even after it's been shared externally. Whether it's a Virtru-protected email, or a file shared via Secure Share, our products put control in the data owner's hands: If you're applying for a mortgage, you can share your financial documents with your broker for 1 week as you submit the application, so the files won't be sitting in his inbox indefinitely. If you're working on a collaborative project with a partner organization, and suddenly the relationship is terminated, you can revoke access to anything sensitive you've already shared. This gives you total autonomy.
And, of course, you have the ability to revoke something sent in error: Like sending a health record to the wrong Sarah Smith, or sharing sensitive employee information with Jim in Sales instead of Jim in HR. (For more on these embarrassing "oops" moments, see #5.)
4. Restrict forwarding and set an expiration date.
Virtru doesn't treat data with a one-size-fits-all approach. We provide granular controls that let you decide what access should look like for each individual piece of data. (That's what we mean by data-centric security: Protecting each piece of data at the object level, with controls that are appropriate for each individual piece of information.)
Use the Virtru email plugin, as well as Virtru Secure Share, to apply specific access controls that can restrict forwarding (so the recipient can't re-share the information). Set an expiration date if information only needs to be accessed for a limited amount of time. This gives you the confidence to share information for temporary purposes, without it sitting unprotected for an indefinite period.
5. Avoid "oh no" moments: Detect and protect sensitive data before it leaves.
The Virtru Data Protection Gateway has been referred to as a Swiss Army Knife for data protection: It applies automated encryption (or decryption) to your existing workflows to make security seamless. When you layer in data loss prevention (DLP) with Virtru and Nightfall, you also get additional controls to ensure sensitive information doesn't leave your network unprotected.
Virtru has a native "warning" function that detects sensitive keywords or data formats and reminds the user before sending: "This email contains something sensitive: Are you sure you want to send?" Chad Bairnsfather, CISO at Health IQ, calls Virtru the "Easy Button for DLP." He notes that the warning feature is also an educational opportunity: "Virtru's warning feature gives them a chance to verify that they're sending the right thing to the right person. We're giving them an opportunity to take a second look."
Simple Yet Powerful: Virtru Data-Centric Security for Your Everyday Workflows
Ready to discover how Virtru can bring easy-to-use security to your organization? Book a demo with our team to learn more.